Save Our Meadows
The Campaign continues
MURAL ON THE MEADOWS
We are delighted to announce that a project which has been in gestation for the last nine months has now been born. It takes the form of a mural sited on the wall of the Scottish Power substation. Read more.
See what STV Edinburgh say.
Have you seen our Sparrowhawks?
Lothian & Borders Raptor Study Group are looking for some help tracking ringed Sparrowhawks. Further information
here
if you would like to help.
Jawbones have gone!
Jawbone Walk has now been reopened after removal of the famous whalebone arch. The arch has been removed to storage where it will spend some time drying out before restoration work can begin.
Find out about the campaign to save the Arch
here.
Princes Street Ferris Wheel
As you can see from the Evening News article
here
, events money can be used to fund park improvements. Could this principle be applied to the Meadows?
Newsletter 37
Newsletter number 37, Summer 2014, has now been published and can be found
here.
Wild flower plot
A new wild flower plot has been created on the Meadows. Read about it
here.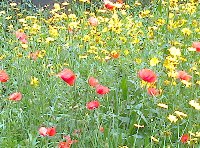 Anyone for Chess?
You can now hire chess pieces to use on the giant chess board on the Links
See the details.
Letters Page
See our Letters page. Your correspondence is invited! Please write to fombl@fombl.org.uk
Would you like to help us with some little jobs around the Meadows and Links? If so look here.
Meadows Chamber Orchestra
Although they are nothing to do with FoMBL, the orchestra are good friends of ours, so we like to give them some publicity here.
For further information
see their website.